The Sandman Will Keep You Awake - The Loop
Play Sound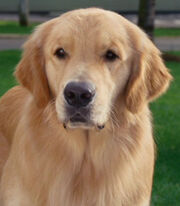 Buddy is the main protagonist in the Air Bud series. He's a golden retriever who's a real pro at basketball, football, soccer, baseball and volleyball. In the third film, he is also the father of five puppies: Budderball, B-Dawg, Buddha, MudBud and RoseBud, though none of them were given actual names until the first Air Buddies movie. Buddy only appeared in the first two series of Air Buddies, and his owner was Noah in those films.
Air Bud films
[
]
The first two films in the franchise were released in theaters, while later entries were direct-to-DVD releases.
Air Buddies Films
[
]
Air Buddies (2006) - He and Molly are stolen by Grim and Denning for Selkirk Tander.
Snow Buddies (2008) - His final appearance. He and Molly go to Alaska to find the Buddies.
Space Buddies(2009) - Disney's pups are back and take one small step for dog and one giant leap for dogkind.
Santa Buddies (2009) - The Buddies remind Santa Paws' feisty son, Puppy Paws, about the true meaning of Christmas.
Spooky Buddies (2011) - The puppies go on a spooky adventure through a haunted mansion.
Treasure Buddies (2012) - Disney invites you on a treasure-hunting adventure with the Buddies!
Super Buddies (2013) - A new breed of super hero is born in Disney's all-new movie!